Ramp Team App
---
Starting in 2023 Halton Hills Minor Baseball will be using the RAMP Team app for all of our House League and Travel Teams.
When your child has been assigned to a team you will receive an email notification that looks like this.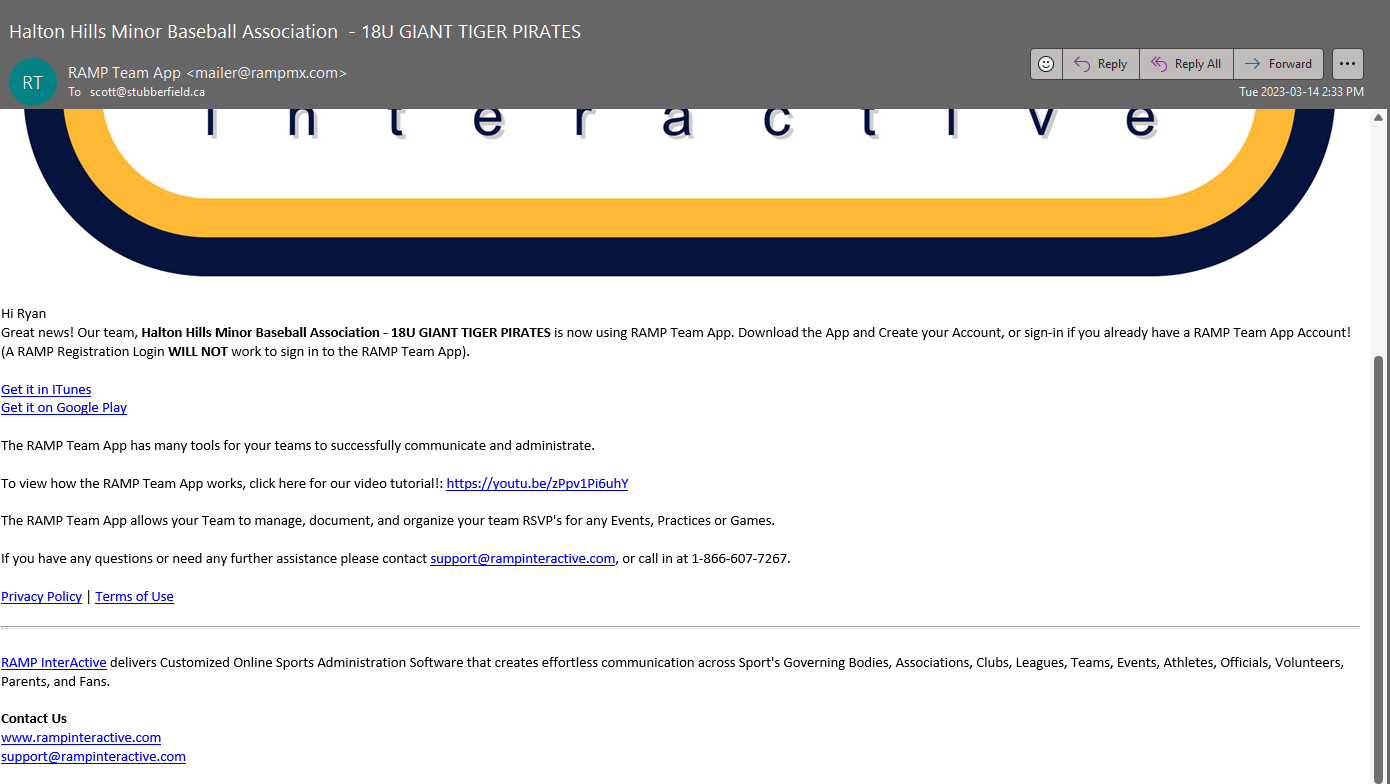 One thing to note is that the account you created during registration will not work for the RAMP Team App. You will be required to create a new account as noted in the email.
Please contact info@hhmba.ca if you are having any issues.
Frequently Asked Questions
Q - I did not receive the email invite above, can I still create an account and login?
A - Yes, can create a RAMP team account using any of the emails you provided for your family members and players during registration. Just open the RAMP team app and choose "Create account" and follow the steps to get logged in.
Q - Where can I download the RAMP team app from?
A - You can download the RAMP team app from iTunes or the Google Play store.
Get it in iTunes
Get it on Google Play
Q - When I login I see duplicate entries for each child for each event in their team calendar. Why is this and what can be done?
A - This is a result of you using the same email address for player and parent(s) during registration. There is a very manual fix that can be applied to your account that will resolve this. Please email technology@hhmba for help. When sending the email please provide your name, email address, your child's name and what team they are on and we will make the fix.
Q - I had the duplicate issue noted above and tried to fix it by deleting one of the duplicate family members and I can no longer see my child's team schedule. Can you help?
A - Please send a support email to RAMP using this as an example.
------------------------------
To
Subject
RAMP Team app access request for player Ty Cobb
Body
Dear Ramp support team.
My son/daughter's name is Ty Cobb.
They play on the 7U Georgetown PIRATES
My name is Bob Cobb
Please grant access to this team to my RAMP team account using the email address of: bob.cobb@domain.com
------------------------------